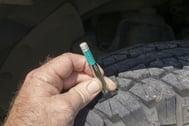 The annual CVSA (Commercial Vehicle Safety Alliance) International Roadcheck is approaching again and will take place on June 7 – 9, 2016. This is the 29th year for this event, which is known to be the largest targeted enforcement program on commercial motor vehicles in the world. Would you believe that they have on record that nearly 17 trucks or buses are inspected every minute across North America during this 72-hour period?
Each year International Roadcheck places special emphasis on a category of violations. Last year's special emphasis was on cargo securement, while this year's is

tire safety

! The inspections will include a more comprehensive review of tires including, but not limited to:
Measuring the tire tread depth
Checking tire pressure
Checking between dual tires to insure that nothing is lodged there
Examining the overall condition of the tire to ensure that there aren't any deep cuts or bulges in the sidewalls of the tire.
While it is general practice to check tires during the roadside inspection, the CVSA has put special emphasis on tire safety this year as a reminder to drivers and carriers how important their own tire inspections are.

It has been reported that more than 4% of the roadside inspections in 2015 resulted in a tire tread depth violation.

Click here for information on tire-related violations from Calendar Year 2015 in the United States.
Here are other helpful tips for motor carriers and drivers to ensure they are safe and have a successful 2016 Roadcheck:
Motor Carriers:
Inform drivers about Roadcheck and what to expect.
Educate drivers on DOT transportation regulations and on company policy and procedures and ensure that all DOT regulations are being met.
Repair items noted on vehicle inspection reports and roadside inspections.
Discuss safety compliance and safe operations to drivers.
Drivers:
Always follow the rules of the road and buckle up.
Pre-inspect the condition of the vehicle, ensure the load is secure and mirrors are adjusted properly.
Obey speed limits and traffic signs. Slow down in bad weather conditions and when driving in construction zones.
Maintain a safe following distance and check mirrors constantly.
Make safe lane changes, and only as necessary.
Focus on driving and avoid or minimize truck distractions such as eating, etc.
Be fit for duty, never drive under the influence and be sure to get enough sleep before driving.
Check out these links below for other helpful information to prepare for the 2016 Roadcheck.