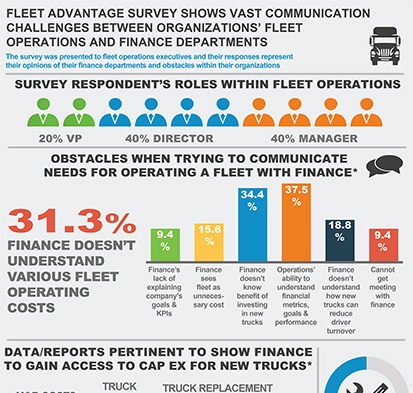 Finance and Operations Not On The Same Page Regarding Focus Of Fleet Cost Management and Procurement
Fleet Advantage, a leading innovator in truck fleet business analytics, equipment financing, and lifecycle cost management announced today its latest industry survey showing where there's a significant lack of communication between fleet operations and finance departments within many organizations with a private fleet.
Where Is the Lack of Communication?
The online survey shows private fleet management personnel highlighting several obstacles when trying to communicate fleet operational needs with finance departments. Signifying this lack of communication, 37.5% of fleet executives cited the inability of their finance departments to clearly communicate the company's financial metrics and goals to the operations department as the largest communications struggle. An additional 34.4% said finance doesn't understand the benefit of investing in newer equipment; and 31.3% said finance doesn't understand various operating costs associated with the fleet.