Significant Savings Realized When Leasing Compared to an Ownership Model Over the Same Period
Fleet Advantage, a leading innovator in truck fleet business analytics, equipment financing and lifecycle cost management unveiled today new analysis that shows the operating and financial benefits of a truck lease vs. buy structure for private truck fleet operators, as well as for-hire carriers. The analysis illustrates a missed opportunity for cost savings when comparing a seven-year ownership of one truck to a four-year ownership and a four-year lease of two consecutive trucks.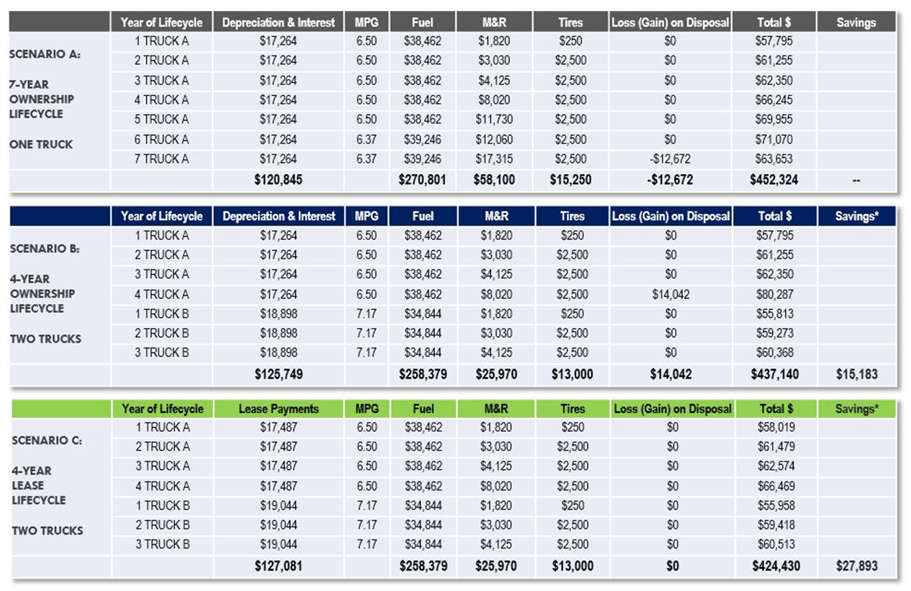 *denotes total savings when compared to a seven-year truck operating cycle
The lease vs. buy analysis shows that while there is a slightly higher investment level in lease payments over the seven-year period, that investment is overshadowed by much larger financial losses on the four-year and seven-year ownership in areas such as fuel expenditures, maintenance and repair, tires, and financial losses resulting from disposal of the financed trucks.
In fact, the overall financial outlay shows that a four-year truck lease model would save approximately $27,893 per truck in comparison to the seven-year ownership model because of the aforementioned factors. The lease model even proves to be beneficial when compared to the four-year ownership model, showing savings of $12,710.
The study was performed by Fleet Advantage analysts, who continuously monitor and track vehicles' P&Ls and "tipping pointTM," the point at which it costs more to operate a truck as compared to replacing it with a new model.
Many truck fleets used to operate under the mindset of driving the same truck as long as possible, but continual data analysis such as that employed by Fleet Advantage show that a more frequent upgrade to new equipment can save millions, especially when multiple trucks in a fleet are taken into consideration.
"A shorter lifecycle combined with a proper lease structure can positively impact a company's overall financial performance through reduced costs and debt-to-equity ratios; improved cash flow and EBITDA performance; increasing the return on assets and preserving capital, in addition to many other significant areas such as driver retention and corporate image," said Brian Holland, President and Chief Financial Officer of Fleet Advantage.