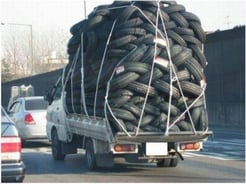 The annual CVSA (Commercial Vehicle Safety Alliance) International Roadcheck will take place this year on June 6 – 8, 2017. This is the 30th year for this event, known to be the largest targeted enforcement program on commercial motor vehicles in the world. The organization has on record that that nearly 15 trucks or buses are inspected every minute across North America during this 72-hour period! Here is some helpful fleet safety information to start educating your drivers about this event and its importance in assuring safe commercial vehicle operations, along with information in regards to the roadside inspection program.
In 2016, there were a total of 62,796 inspections by CVSA-certified inspectors in North America. Of this total, 42,236 were Level I inspections, which is the most comprehensive vehicle inspection level. Of these Level I inspections, 21.5% of vehicles and 3.4% of drivers were placed out of service due to critical item violations. Of the total out-of-service violations for vehicles and drivers, the top violations were:
Vehicle: brake adjustment and brake system violations= 45.7% of out-of-service total for vehicles
Driver: hours of service= 46.8% and false logs= 16.4% of all out-of-service total for drivers
Each year International Roadcheck places special emphasis on a category of violations. Last year's special emphasis was on tire safety (which accounted for 13.7% of the total percentage of out-of-service violations in the United States), while this year's is

cargo securement

! The inspections will include checking for compliance with safe load requirements including:
Checking truck equipment such as

Tarps
Dunnage
Doors
Tailgates
Spare Tires and etc.

Checking for damaged tie-downs
Checking for insufficient tie-downs
Checking for loose tie-downs
Inspecting shifting and loss of load
While it is a general practice that all Roadside Inspections include checking for compliance with safe load regulations as detailed in Part 393 Subpart I- Protection Against Shifting and Falling Cargo, proper cargo securement is not always correct. Therefore, the International Roadcheck 2017 has placed special emphasis on cargo securement as a reminder to drivers and carriers that proper cargo securement is vital to safety. International Roadcheck 2016 results showed that of the top 12 out of service violations, 6.1% were due to cargo securement violations.
Be prepared for cargo securement!
Make sure you are carrying a safe load

Check tail board security

Verify end gates are secured in stake pockets

Check both sides of the trailer to ensure cargo is protected from shifting or falling

Verify that rear doors are securely closed

Where load is visible, check for proper blocking and bracing

Examine inside of trailer to assure that large objects are properly secured

Check cargo securement devices for proper number, size and condition

Check tie down anchor points for deformation and cracking
Here are other helpful tips for motor carriers and drivers to ensure they are safe and have a successful 2017 Roadcheck:
Motor Carriers:
Inform drivers about Roadcheck and what to expect
Educate drivers on DOT transportation regulations and on company policy and procedures and ensure that all DOT regulations are being met
Repair items noted on vehicle inspection reports and roadside inspections
Discuss safety compliance and safe operations to drivers
Drivers:
Always follow the rules of the road and buckle up
Pre-inspect the condition of the vehicle, ensure the load is secure and mirrors are adjusted properly
Obey speed limits and traffic signs. Slow down in bad weather conditions and when driving in construction zones
Maintain a safe following distance and check mirrors constantly
Make safe lane changes, and only as necessary
Focus on driving and avoid or minimize truck distractions such as eating, etc.
Be fit for duty, never drive under the influence and be sure to get enough sleep before driving
Check out these links below for other helpful information to prepare for the 2017 Roadcheck