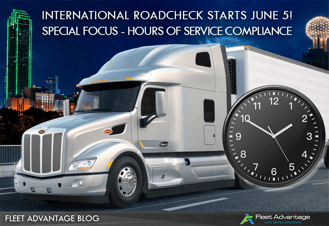 The annual CVSA (Commercial Vehicle Safety Alliance) International Roadcheck will take place this year beginning June 5 – 7, 2018. This is the 31st year for this event, known to be the largest targeted enforcement program on commercial motor vehicles in the world. The organization has on record that that nearly 15 trucks or buses are inspected every minute across North America during this 72-hour period! Here is some helpful fleet safety information to start educating your drivers about this event and its importance in assuring safe commercial vehicle operations, along with information in regards to the roadside inspection program.
In 2017, there were over 62,000 Level I, II and III inspections by CVSA-certified inspectors in North America, including 7,713 inspections in Canada and 54,300 conducted in the United States. Of these inspections, 19.4% of commercial motor vehicles inspected and 4.7% of all drivers inspected were placed out of service due to critical item violations. Of the inspections conducted, the top out-of-service violations for vehicles and drivers were:
Vehicle:
Brake systems= 26.9%
Cargo securement= 15.7%
Tire/wheels= 15.1%
Driver:
Hours of service= 32.3%
Wrong class license= 14.9%
False log book= 11.3%
Each year International Roadcheck places special emphasis on a category of violations. Last year's special emphasis was on cargo securement (which accounted for 15.7% of the total percentage of out-of-service violations in the United States). This year's focus will be on Hours of Service compliance.
According to CVSA President Capt. Christopher Turner of the Kansas Highway Patrol, "The top reason drivers were placed out of service during 2017 International Roadcheck was for hours-of-service violations. Thirty-two percent of drivers who were placed out of service during last year's three-day International Roadcheck were removed from our roadways due to violations related to hours-of-service regulations. It's definitely an area we need to call attention to this year." He continues, "Although the electronic logging device (ELD) rule that went into effect on Dec. 18, 2017, does not change any of the underlying hours-of-service rules or exceptions, the ELD mandate placed a spotlight on hours-of-service compliance," said Capt. Turner. "We thought this year would be a perfect opportunity to focus on the importance of the hours-of-service regulations."
Be prepared for Hours of Service Compliance!
Hours of Service Regulations – Property Carrying Drivers - US

No driving after 11 hours of driving
No driving after 14 hours on duty
10 hours off duty is required once the maximum time is reached
Drivers must have a 30-minute rest break after 8 hours on duty, unless excepted
Drivers cannot drive after being on duty for more than 60 hours in 7 days (if the driver works less than 7 days a week)
Drivers cannot drive after being on duty for more than 70 hours in 8 days (if the driver works 7 days a week)
34-hour reset is required to start the 60- or 70-hour cycle over again
Drivers must have previous 7 days of logs when log is required
Drivers using the sleeper berth provision must take at least 8 consecutive hours in the sleeper berth, plus a separate
2 consecutive hours either in the sleeper berth or off duty, or any combination of the two
A summary of the Hours of Service Regulations can be found on the Federal Motor Carrier Safety Administration (FMCSA) site by clicking here

Hours of Service Compliance

The CVSA has created a two-page flyer titled Hours of Service Compliance that contains useful information to help the drivers and motor carriers understand hours-of-service compliance rules and regulations in the United States (and Canada)
Here are other helpful tips for motor carriers and drivers to ensure they are safe and have a successful 2018 Roadcheck:
Motor Carriers:
Inform drivers about Roadcheck and what to expect
Educate drivers on DOT transportation regulations and on company policy and procedures and ensure that all DOT regulations are being met
Repair items noted on vehicle inspection reports and roadside inspections
Discuss safety compliance and safe operations to drivers
Drivers:
Always follow the rules of the road and buckle up
Pre-inspect the condition of the vehicle, ensure the load is secure and mirrors are adjusted properly
Obey speed limits and traffic signs. Slow down in bad weather conditions and when driving in construction zones
Maintain a safe following distance and check mirrors constantly
Make safe lane changes, and only as necessary
Focus on driving and avoid or minimize truck distractions such as eating, etc.
Be fit for duty, never drive under the influence and be sure to get enough sleep before driving
The CVSA guide Understanding the North American Standard Inspection Program is shown below and can be downloaded by clicking here. It is a very concise guide that reviews the Inspection Program, including a guide on Inspection levels and CVSA decals.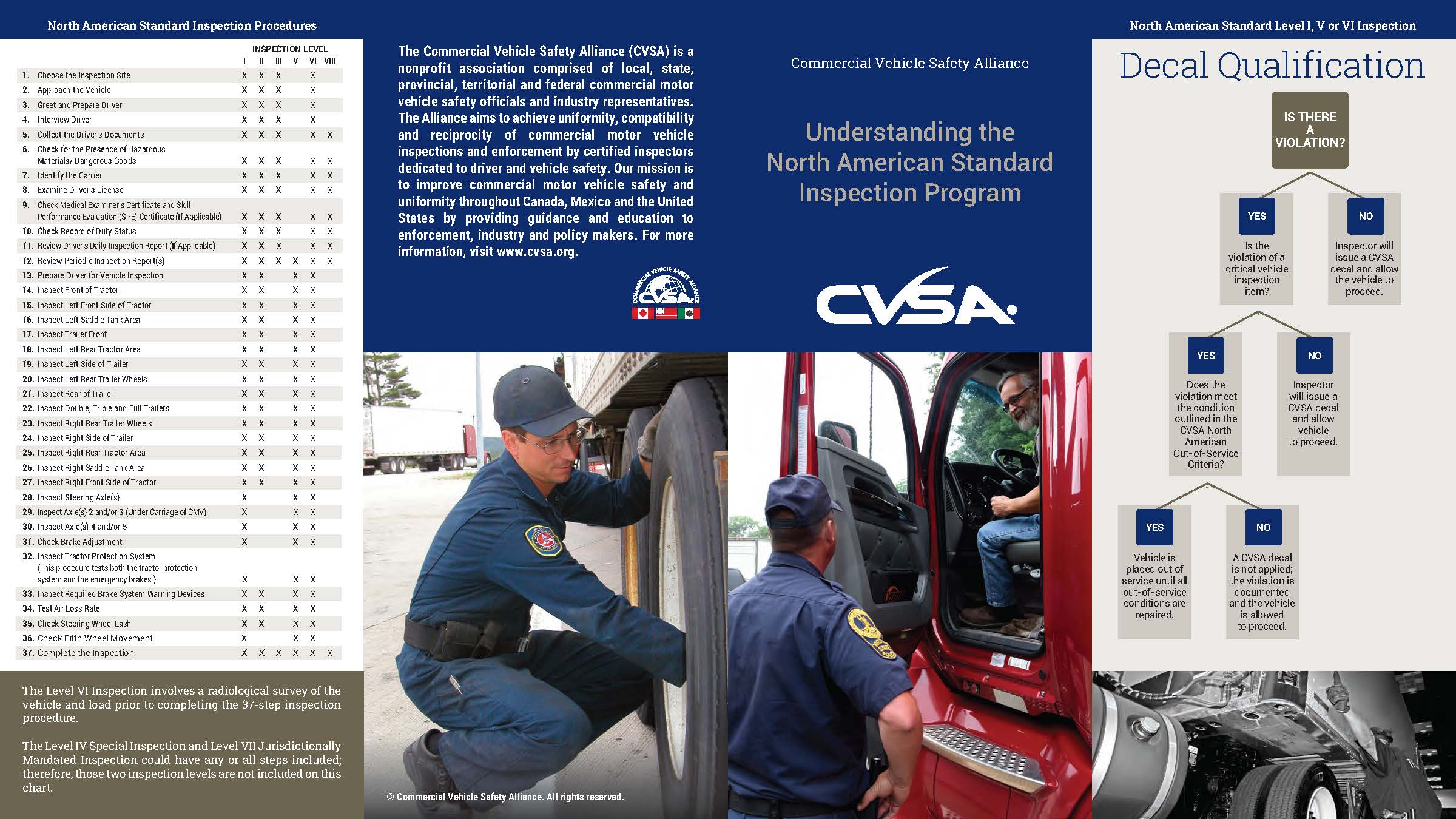 Check out these links below for other helpful information to prepare for the 2018 Roadcheck
Click here for more information on CVSA International Roadcheck 2018
Click here for the International Roadcheck Checklist for Drivers
Click here to see what the inspectors are looking for