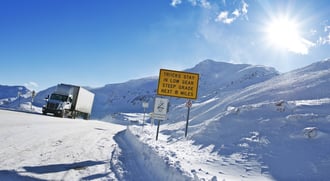 It is that time of year again - the temperature is dropping, the snow is falling, and a long winter is coming. Winter is a difficult season for those in the transportation industry, as hazardous road conditions create a dangerous driving environment for drivers. The winter months demand increased safety measures and supplemental equipment to keep rigs (and drivers) from expensive damage. Allianz Global Corporate and Specialty suspects that adverse weather can cost the transportation industry north of $3.5 billion each year.
Your drivers are the first line of defense in winter maintenance for your fleet's tractors.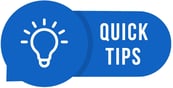 Below are a few helpful tips for your drivers that they can perform during pre/post trip inspections that will help in ensuring your trucks and drivers are not stuck out on the road during the cold weather.
Drain air tanks at the end of the day. This will help prevent water from freezing in brake valves and brake chambers.
Check belts and hoses for signs of cracks, brittle rubber or bulges.
Check battery for loose connections, tighten if needed. Make sure all connections are clean and clean corroded connections if needed.
Check to see when the last time the air dryer filter was replaced. Note it on a VIR if it has been more than a year.
Maintain proper coolant levels. If you must add coolant make sure it is a 50/50 blend. Look for any areas that are wet due to coolant. Remember to NOT mix coolants, if you are unsure call the maintenance department.
Check glad hand seals. Look for dry or cracked seal and replace as needed.
Check the air system to make sure it is in good working order.

Make sure the minimum operating pressure is no less than 100 psi.
It should take no longer than 2 minutes to build up air pressure from 85 psi to 120 psi at 600 to 900 rpm. This is the build rate.
Make sure the Cut-in and Cut-out pressures are correct.

Cut-out pressure is between 120-135 psi.
Cut-in pressure is 20 psi below the cut-out pressure.

Check tire pressures daily. Make sure tire pressures are maintained at the set Fleet tire pressures. A difference of no more than 5 psi is acceptable.
Check tread depths. Make sure you do not have mismatched tires.
Make sure that wiper blades are in good condition. Replace if necessary.
Make sure that wiper fluid spray nozzles are working properly.
Check wiper fluid reservoir top off if needed.
Top off your fuel tank at the end of the day. This will help to reduce condensation build-up in the fuel tank/s and system.
The use of Air Line Anti-Freeze is not recommended for use with ADB, Air Disc Brakes. Use of this product will damage the caliper internals on tractors and trailer.
The drivers help with daily maintenance checks will ensure that your equipment is out longer in-between PM services and most importantly not broken down on the side of the road. Additionally, remind your drivers to complete a VIR daily.