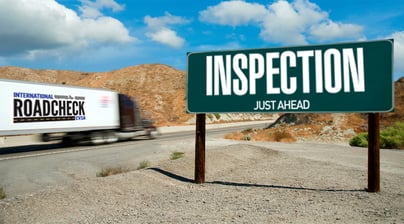 Inspections, inspections, inspections. From random roadside inspections to the annual CVSA (Commercial Vehicle Safety Alliance) Roadcheck occurring on June 2-4 and annual CVSA Brake Safety Week (September 6-12), fleets and drivers are continually being inspected for safety practices in an effort to keep our roads safe.
The CVSA is an international not-for-profit organization comprised of local, state, provincial, territorial and federal motor carrier safety officials, as well as industry representatives from the US, Canada and Mexico. The organization's mission is to promote commercial motor vehicle safety.
The Roadcheck event is an annual inspection blitz where the CVSA, FMCSA and other safety agencies come together in a joint effort to perform safety inspections on trucks and buses. There will be approximately 10,000 inspectors stationed at 1,500 inspection points, performing nearly 70,000 inspections throughout North America.
It has been stated that along with full 37-step Level I inspections, this year's special emphasis will be on cargo securement. A Level I inspection guide is shown below.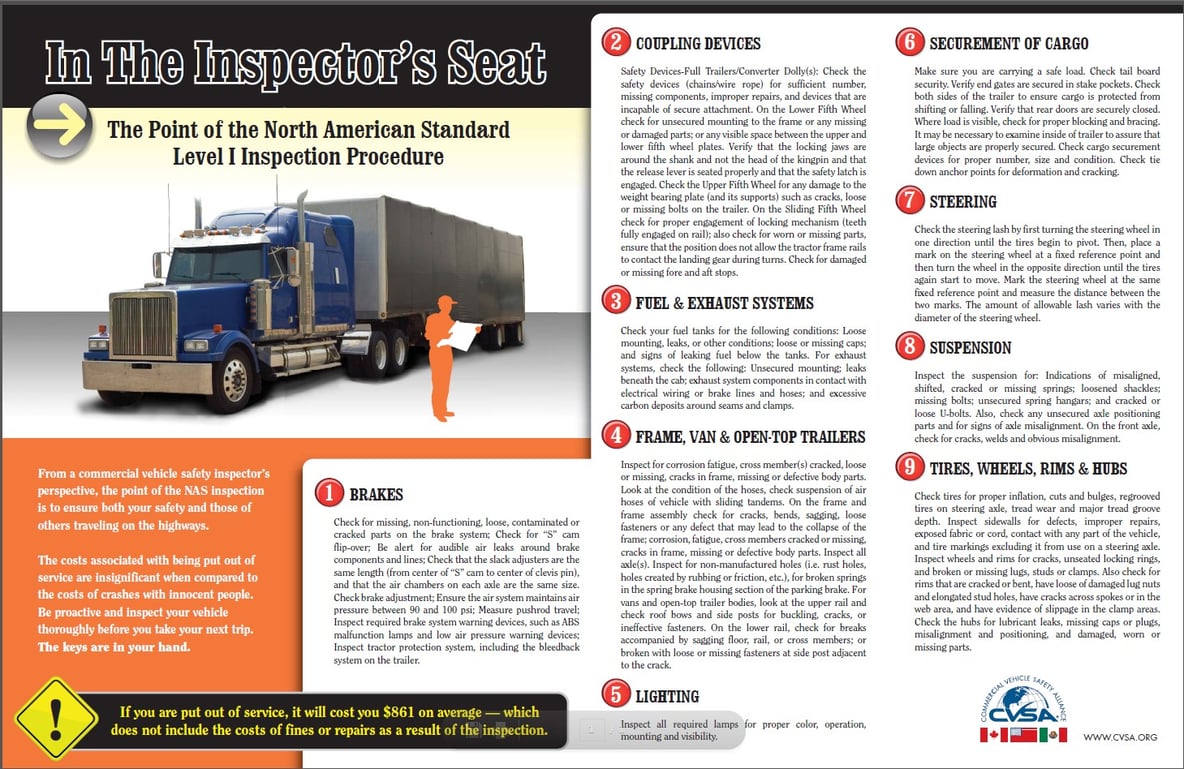 The Roadcheck results from last year's more than 72,000 inspections included a vehicle out of service rate of 18.7% (down from 20.6%in 2013) and a driver out of service rate of 4.8% (up from 4.3% in 2013).
According to the CVSA, since its inception in 1988, roadside inspections conducted during Roadcheck have numbered over 1.4 million, resulting in an estimated 318 lives saved and 5,840 injuries avoided. Roadcheck also provides an opportunity to educate industry and the general public about the importance of fleet safety and the roadside inspection program.
What should motor carriers and drivers do to ensure that they are safe and have a successful Roadcheck?
Motor Carrier:
Inform drivers about Roadcheck and what to expect.
Educate drivers on DOT transportation regulations and on company policy and procedures and ensure that all DOT regulations are being met.
Repair items noted on vehicle inspection reports and roadside inspections.
Discuss safety compliance and safe operations to drivers.
Drivers:
Always enforce the rules of the road and buckle up.

Pre-inspect the condition of the vehicle, ensure the load is secure and mirrors are adjusted properly.

Obey speed limits and traffic signs. Slow down in bad weather conditions and when driving in construction zones.

Maintain a safe following distance and check mirrors constantly.

Make safe lane changes, only as necessary.

Focus on driving and avoid or minimize truck distractions such as eating, etc.

Be fit for duty, never drive under the influence and be sure to get enough sleep before driving.
To learn more about CVSA Roadcheck click here http://www.cvsa.org/programs/int_roadcheck.php