GHG Phase 2 Mandate - Affects on Heavy Duty Truck Fleets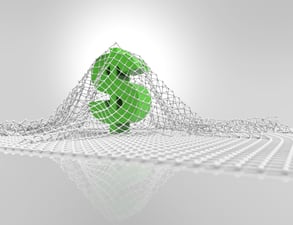 A competitive advantage goes to the business visionaries that act faster than the competition to changes in the market providing a greater value at a lower cost. The initial Greenhouse Gas mandates have already saved Class 8 transportation fleets millions of dollars in operating costs by reducing fuel consumption. On August 16, 2016 the federal government passed the proposed regulation, GHG Phase 2, to further tighten emissions and improve fuel economy for heavy duty trucks by up to 25% from 2017 through 2027 model years.
The GHG Phase 2 final rule, issued by the US EPA and the NHTSA also contains the first-ever federal efficiency standards for new trailers.
The manufacturers are expected to exceed federal requirements. According to OEM's, the efficiency improvements will include new combustion design and higher PSI in fuel delivery systems, which creates a more precise fuel spray pattern and new variable speed turbo chargers that further compress air fuel mixtures resulting in improved combustion and a lower percentage of unburned fuel resulting in increased power from each gallon of diesel. Increased power per piston combustion equals more horsepower at no additional fuel burn.
Further advancements will include:
Topography software
Eco coasting
Increased connectivity and communications between engine, transmission and axles
Electrification of numerous engine driver components such as power steering, air conditioning compressors and etc.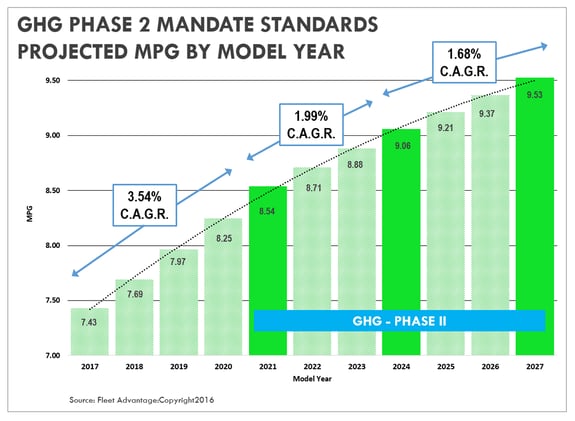 With the recent passing of the GHG Phase 2, the mandate projects an improvement of 1 MPG (mile per gallon) or about $4,200 per truck savings per year in the first few years in fuel alone.
In total, the final standards are expected to lower CO2 emissions by approximately 1.1 billion metric tons, save vehicle owners fuel costs of about $170 billion, and reduce oil consumption by up to two billion barrels over the lifetime of the vehicles sold under the program.

Affects of GHG Phase 2 Regulations on Truck Lifecycle Management:
The Acquisition and Disposal Decision You Make Today Will Significantly Impact Your Total Cost of Ownership
Fuel represents 60% of a vehicle's pure operating costs. Understanding the financial impact of integrating new equipment technologies that continually increase fuel efficiency and reduce emissions is imperative. Leveraging these improvements can elevate a truck fleet to a competitive differentiator with cost reductions applied to revenue enhancement strategies - creating an edge over competitors.
In order to realize gains from these mandates it is essential to have a strategy for the future that includes options on vehicle lifecycle practices:
How long you run your trucks
How many trucks you order per year
The optimal specifications for your operation
The method of financing you select
*FUEL EFFICIENCY CAGR: Compound Annual Growth Rate