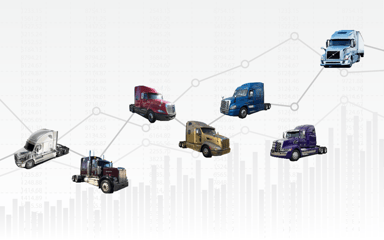 Fleet Advantage, a leading innovator in truck fleet business analytics, equipment financing, and lifecycle cost management made public today its 2017 Truck Lifecycle Data Index (TLDI) comparing all-in operating costs of early-model Class-8 trucks to 2018 model-year replacements. The TLDI shows significant cost savings when replacing older-model vehicles with 2018 MY trucks. According to Fleet Advantage's ATLAAS (Advanced Truck Lifecycle Administrative Analytics Software), the TLDI shows that fleet operators can realize a first-year per-truck savings of $22,162 when upgrading from a 2012 sleeper model-year truck to a 2018 model, a 17% increase in savings compared with year-ago figures ($19,023) for 2017 model-year upgrades.
These comparisons are critical in helping fleet operators' future procurement plans, including finding of the "TIPPINGPOINT®" – the point at which a truck reaches economic obsolescence, and costs more to operate than to replace with newer equipment.


Much of these savings can be found in the fleet maintenance costs, in addition to the 15% fuel economy improvement; especially since it was just announced that the U.S. average retail price of diesel currently sits at $2.915 a gallon, the highest mark in more than two years and 35 cents higher than a year ago.

Therefore, it is important to look at the fleet's lifecycle and operating costs as variable vs. fixed, which allows for easier budgeting and forecasting. A longer-term lifecycle of a vehicle means organizations have higher variable and unpredictable costs – maintenance, fuel expenditure, and repair, etc.; whereas a shorter lifecycle of two trucks equaling the same time frame may result in a slight increase in the initial fixed cost (interest rate, lease payment, etc.) due to the market price of the second asset, but is less expensive over time.
"Private fleets and for-hire operators are increasingly relying on data analysis to make more accurate decisions on procurement strategies and asset management," said Kenneth Loricchio, Manager of Advanced Analytics at Fleet Advantage. "The more we dig into the data, the more these organizations can see the bottom-line savings realized when upgrading quicker, and the fixed cost differences are truly inconsequential to achieve these savings."
About Fleet Advantage
Fleet Advantage serves America's top truck fleets and guarantees the absolute lowest cost of ownership by providing truck leasing and matching proprietary data driven IT processes with fleet analytics using the latest eco-efficient clean diesel technology to achieve optimum vehicle productivity, while reducing fuel and maintenance costs. Fleet Advantage is ranked as one of the fastest-growing privately held companies in the state of Florida and the fastest growing independent truck lessor in the U.S. In 2015 and 2013, Fleet Advantage was also named to Inc. magazines' 500|5000 list of fastest growing companies in the nation. In 2011, CEO John Flynn received the Ernst & Young Entrepreneur of the Year® 2011 Florida - Emerging Category award.