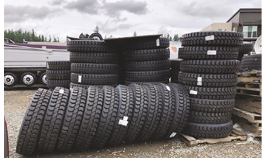 Have you reviewed your Tire Program, lately? In part two of this Blog Series we provide best practices that can be applied to help keep your tire maintenance cost down and your drivers safe!
The U.S. Tire Manufacturers Association (USTMA) consumer awareness campaign is fast approaching. National Tire Safety Week, on June 27 – July 3, 2022 is the annual initiative aimed to spread awareness of the importance of proper tire care and maintenance.
We previously reviewed how tire cost is the second-highest expense within a fleet's maintenance program.